Mucca Pazza at Fermilab's 50th Anniversary Celebration, 2017.
Photo courtesy of Fermilab.
GIFT IDEAS FOR THE NERDS IN YOUR LIFE,
AUTOGRAPHED BY LIFELONG NERDS
Tis the season, and we are offering signed LPs and CDs in our shop! All titles purchased now through December 16th will be autographed by members of Mucca Pazza! Go ahead, peruse the selection over yonder and get your orders in by December 16th for
delivery by December 23rd
(USA only. Nerds from abroad are welcome to order autographed items but they won't make it in time for Xmas gift giving).
STAR-CROSSED UNDER STALIN
(SPOILER ALERT: LOVE WINS!)
We're getting ready for a rematch with the Chicago Sinfonietta! This May, we will join together with our orchestral counterparts once more to play a brand new arrangement of Prokofiev's Romeo and Juliet. Tickets are on sale now for the following performances:
2017 SONG & VIDEO REWIND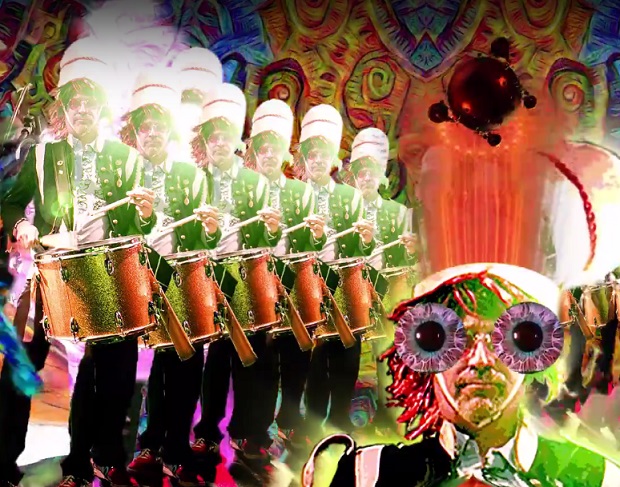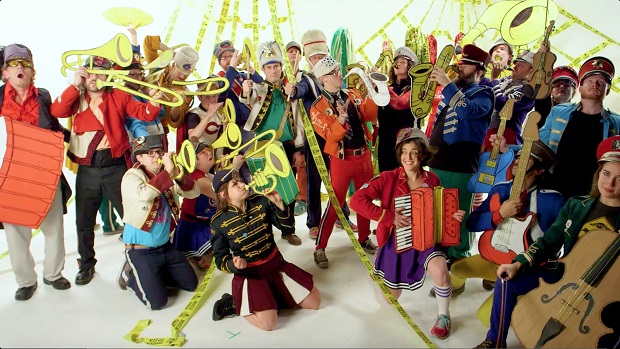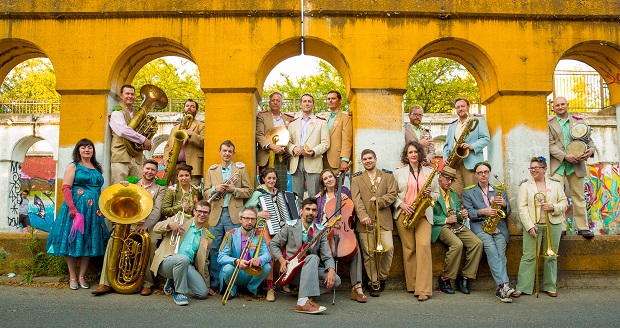 AN EYE BACK ON THE MUCCA PATH, FROZEN IN A PHOTOGRAPH:
IMAGES FROM OUR ADVENTURES IN 2017
Mucca Pazza at the Silver Lake Farmers Market, Los Angeles, CA, March
2017. Photo courtesy of Stefano Bosso.
Maniacs rolling around the floor at the Bootleg Theater, Los Angeles, CA, 2017. Photo by Michelle Shiers.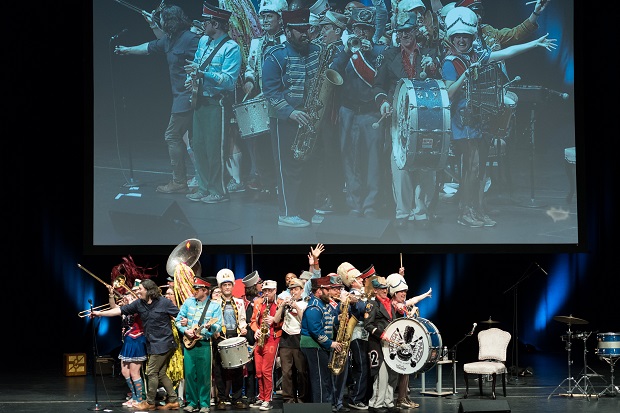 Mucca Pazza w/Stephen Thompson at WBEZ's Pop Culture Happy Hour live at the Harris Theater. Photo courtesy of Meghan Bearder.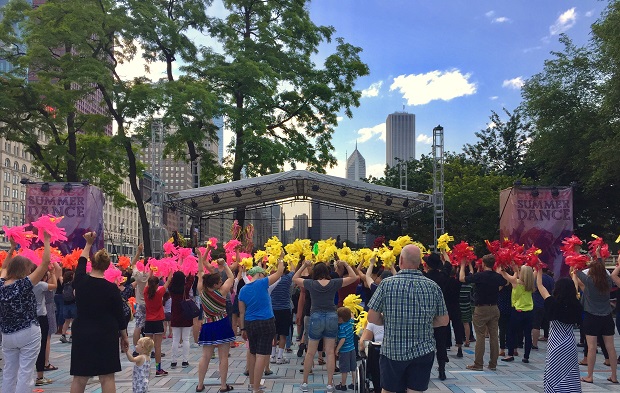 Awesome pom action, Summerdance, Chicago, IL, July 2017. Photo courtesy of Ronnie Kuller.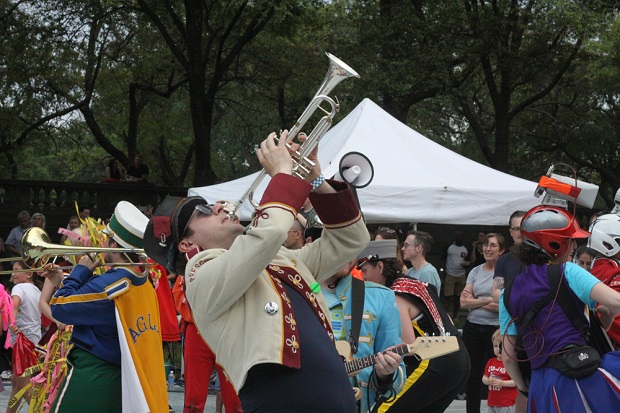 Nick Siegel bringing the joy, Summerdance, Chicago, IL, July 2017. Photo courtesy of Miranda Lange.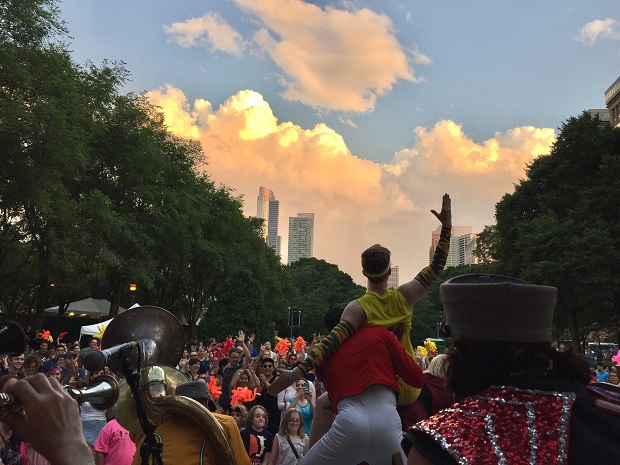 Stage view, Summerdance, Chicago, IL, July 2017. Photo courtesy of Ronnie Kuller.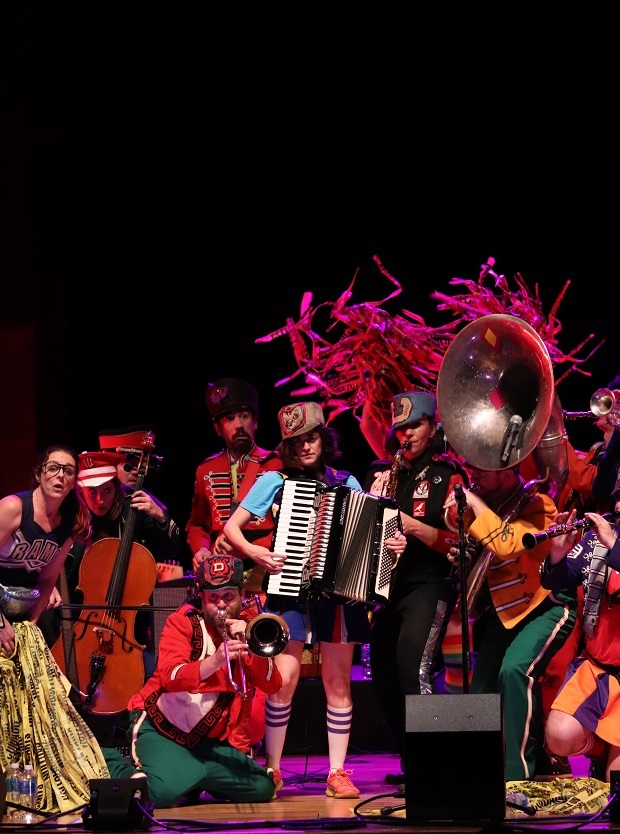 Tube Sock Tango, Doudna Fine Arts Center, Charleston, IL, 2017. Photo courtesy of Courtney Burke.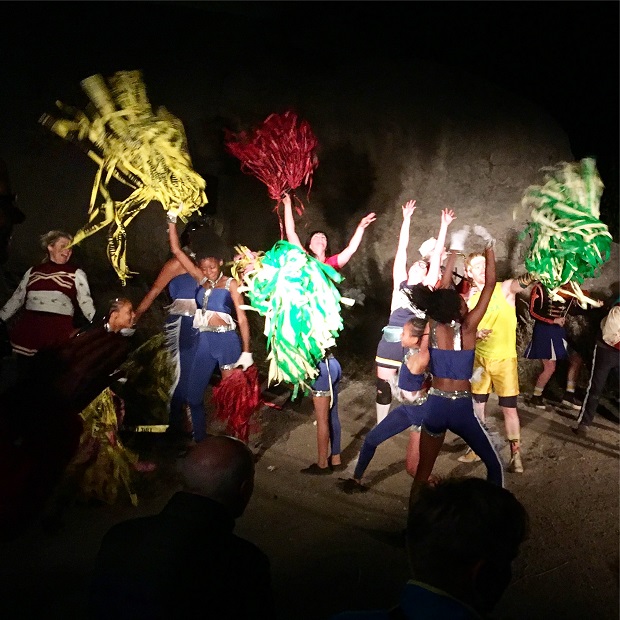 Mucca + Horace Mann Marching Mustangs at Steelworkers Park, Chicago, IL, September 2017. Photo courtesy of Angelique Grandone.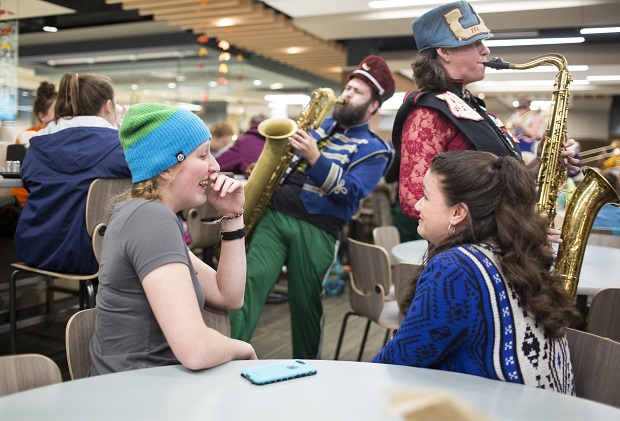 Garrick and Maria serving up saxwiches at the Hope College cafeteria, Holland, MI, November, 2017. Photo courtesy of Hope College.
It's the giving season, and there are so many amazing organizations doing wonderful work that deserve your support... and then there's Mucca Pazza! We can now receive tax-deductible donations through our fiscal sponsor, Fractured Atlas, and we would be so grateful for any contributions made towards our little marching band.
Thank you so much for considering, and happy holidays!
LYA!